Bienvenido a Parkville Care Center
George Kingston
Administrator
Dear Residents and Families:
Welcome to Parkville Care Center, formerly known as Park Place Health Center. We are thrilled to announce as of January 2019 Parkville Care Center is part of the iCare Health Network. We chose the name Parkville to honor the care center's place as a provider of quality skilled nursing and long term care in the historic Parkville neighborhood of Hartford, Connecticut. 
It is our commitment to make Parkville Care Center an inviting, homelike environment, providing culturally appropriate clinical care as well as recreation activities, dining, programming and supports. We are exceptionally proud of the specialized programs here at Parkville. At this time the care center provide short term rehabilitation and skilled nursing, long term care and memory care.
The Memory Care program is now part of iCare's Greater Hartford Memory Care Centers and is delivered in a safe, secured environment where residents are cared for by highly trained professionals under the direction of a full time Memory Care Program Director. Our residents are treated with dignity and respect and are welcome to participate in a wide variety of therapeutic recreation activities designed to meet their individual physical, cognitive and emotional well-being.  Continue Reading

iCare Heartbeat
All the latest news, discussion, and updates from the iCare & Touchpoints Rehab team.
In early July, Touchpoints at Bloomfield received a generous donation of beautiful garden boxes, plants, flowers and soil from KBE Building Corporation of Farmington, CT. According to Touchpoints' Cindy Payne, "The residents are so excited to receive such a generous donation. Our rehab team has utilized the garden boxes to work with our residents on strength and mobility through our horticulture program."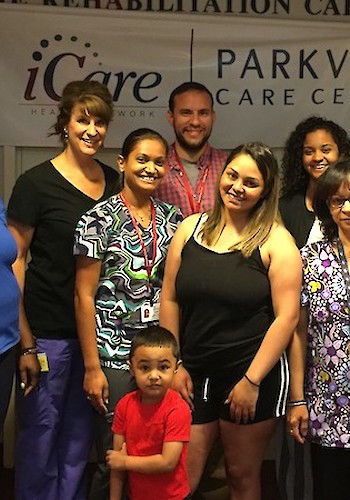 "My name is Ninoshka Carmona, I had a car accident and broke my pelvis. I was three months without being able to walk and with the help of the CNAs Sunny, Tonya, and Natalie, as well as my nurse Olga, as well as Chris, Monsy, and Robin in the therapy department I was able to walk again, get stronger, and get back to my family."
~ Ninoshka Carmona (June 2019)