Bienvenido a Parkville Care Center
George Kingston
Administrator
Dear Residents and Families:
Welcome to Parkville Care Center, formerly known as Park Place Health Center. We are thrilled to announce as of January 2019 Parkville Care Center is part of the iCare Health Network. We chose the name Parkville to honor the care center's place as a provider of quality skilled nursing and long term care in the historic Parkville neighborhood of Hartford, Connecticut. 
Bienvenido a Parkville Care Center, anteriormente conocido como Park Place Health Center. Estamos encantados de anunciar que a partir de enero de 2019. Parkville Care Center es parte de iCare Health Network. Elegimos el nombre de Parkville para honrar el lugar del centro de atención como proveedor de enfermería especializada de calidad y atención a largo plazo en el histórico vecindario Parkville de Hartford, Connecticut.
It is our commitment to make Parkville Care Center an inviting, homelike environment, providing culturally appropriate clinical care as well as recreation activities, dining, programming and supports. We are exceptionally proud of the specialized programs here at Parkville. At this time the care center provide short term rehabilitation and skilled nursing, long term care and memory care.   Continue Reading

iCare Heartbeat
All the latest news, discussion, and updates from the iCare & Touchpoints Rehab team.
September is National Recovery Month. Building on the momentum from their kick-off pep rally event and keeping with the themes of National Recovery Month, Chelsea Place Care Center held a Road to Recovery Luau at the care center in Hartford. The Chelsea Place team, residents and staff alike, have been embracing the theme's of the moment and celebrating the victories that come with recovery from substance use, big and small.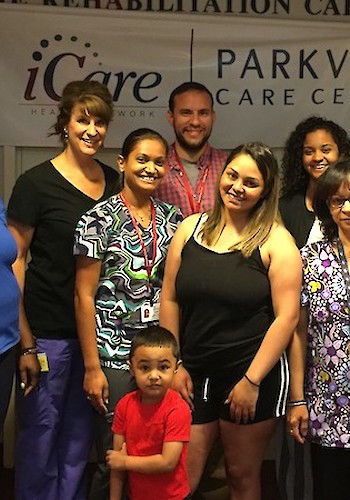 "My name is Ninoshka Carmona, I had a car accident and broke my pelvis. I was three months without being able to walk and with the help of the CNAs Sunny, Tonya, and Natalie, as well as my nurse Olga, as well as Chris, Monsy, and Robin in the therapy department I was able to walk again, get stronger, and get back to my family."
~ Ninoshka Carmona (June 2019)