Bienvenido a Parkville Care Center
Laurie Cianci
Administrator
Dear Residents and Families:
Welcome to Parkville Care Center, formerly known as Park Place Health Center. As of January 2019, Parkville Care Center is part of the iCare Health Network. We chose the name Parkville to honor the care center's place as a provider of quality skilled nursing and long term care in the historic Parkville neighborhood of Hartford, Connecticut. 
Bienvenido a Parkville Care Center, anteriormente conocido como Park Place Health Center. Estamos encantados de anunciar que a partir de enero de 2019. Parkville Care Center es parte de iCare Health Network. Elegimos el nombre de Parkville para honrar el lugar del centro de atención como proveedor de enfermería especializada de calidad y atención a largo plazo en el histórico vecindario Parkville de Hartford, Connecticut.
It is our commitment to make Parkville Care Center an inviting, homelike environment, providing culturally appropriate clinical care as well as recreation activities, dining, programming and supports. We are exceptionally proud of the specialized programs here at Parkville. At this time the care center provide short term rehabilitation and skilled nursing, long term care and memory care.   Continue Reading

iCare Health Network Blog
All the latest news, discussion, and updates from the iCare Health Network team!
On behalf of iCare Health Network we would like to express our deep gratitude to all of our partners within state government in Connecticut for their vision, unwavering support and ongoing commitment to 60 West and its mission of serving the underserved. We would also like to thank those that make it happen on a daily basis; the skilled, compassionate and all around excellent staff of 60 West who truly make it happen every single day. 
"From Five Star Google Review – My cousin, son and myself went to visit my father for the first time on Sunday at Parkville Care Center. The staff from front desk personnel, to nursing, were attentive and respectful. The place was surprisingly well maintained and my father didn't complain once about staff care. My father can be a handful with his mouth, so the fact that he had nothing negative to say about the facility says a lot. I understand it was only one visit, actually on my way there now, first impression was a good one, Keep up the good care, not an easy task."
~ Felix Betancourt (June 2022)
"(Five Star Yelp Review): My brother recently transferred to the Parkville facility in Hartford CT. Although he has been there for a short period of time, the quality of care has been nothing short of remarkable. My brother has a severe Traumatic Brain Injury and has significant physical and cognitive challenges. Since the transfer from another facility (I was not happy with), my brother has made some great strides. For the first time since his incident (summer of 2021), I heard him uttering sounds and trying to speak with us. This brought tears to my eyes. It was the most alert I have seen him. I am hopeful that he will gain more of his cognition and physical abilities back. The staff at Parkville are warm, welcoming, and genuinely care about the residents and family members. I am very grateful to the amazing team."
~ Ana S. (via Yelp Reviews) February 2022
"Rated 9/10 in satisfaction survey. "Pretty good overall""
~ Resident JR (January 2022)
"Rated 10/10 on customer satisfaction survey. "Very Good""
~ Resident JPA (January 2022)
"I feel good here. They take care of me well."
~ Resident VMF (January 2022)
"For me its a really good place."
~ Resident RH (January 2022)
"Its a good place. I like it here."
~ Resident RH (January 2022)
"Very happy with everyone and grateful."
~ Resident MG (January 2022)
"Compassionate. Best decision I ever made being here. Staff are always friendly…anything I want or need they provide it. This place has given me the opportunity to write poetry."
~ Resident SD (January 2022)
"Overall very good experience."
~ Resident AC (January 2022)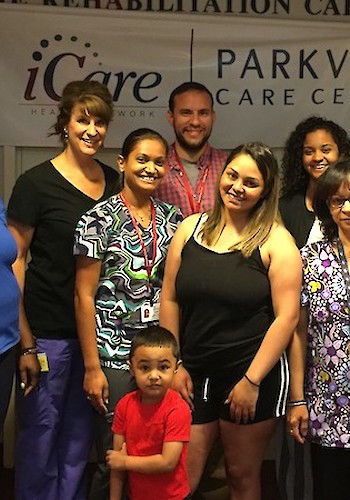 "My name is Ninoshka Carmona, I had a car accident and broke my pelvis. I was three months without being able to walk and with the help of the CNAs Sunny, Tonya, and Natalie, as well as my nurse Olga, as well as Chris, Mansi, and Robin in the therapy department I was able to walk again, get stronger, and get back to my family."
~ Ninoshka Carmona (June 2019)